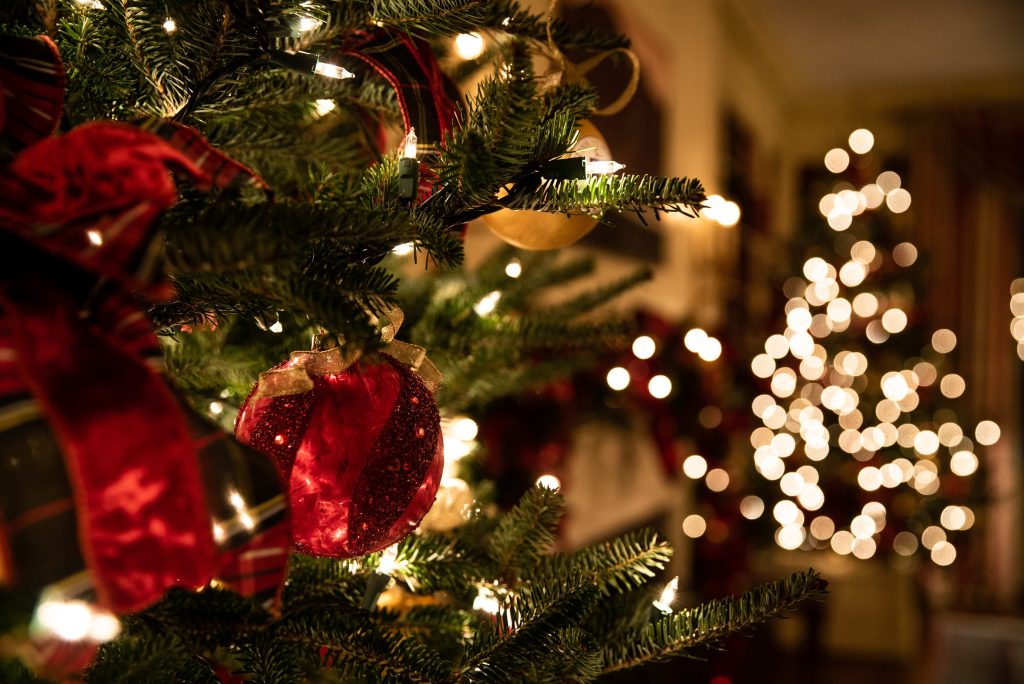 With Christmas well and truly underway here are twelve festive favourites to get you in the spirit!
Day 1
The Lion, The Witch and The Wardrobe (2005)
While not technically a Christmas film, Narnia's eternal winter and an appearance from Santa himself gives enough reason to consider this film a great way to ease you into the festive season. With a mixture of action, adventure, fantasy, and a sprinkle of Christmas, there's plenty for everyone to enjoy in this children's classic.
Day 2
How The Grinch Stole Christmas (2000) / The Grinch (2018)
For the Scrooges among us, this one is ideal for you. If you're not quite ready for the chaos of Christmas but equally don't want to miss out on the fun, sit yourself down and give this a watch. You might just find the Grinch within you is more ready for a bit of merrymaking than you might think.
Day 3
The Polar Express (2004)
This movie's phenomenal soundtrack and unique animation style brings an intrigue unlike any other Christmas film. Mostly set within the capacity of the Polar Express, children bond through a tumultuous journey to the North Pole to visit Father Christmas.
Day 4
Rudolph the Red-Nosed Reindeer (1964) /Rudolph the Red-Nosed Reindeer and the Island of Misfit Toys (2001)
Although primarily for the kids, this animated favourite brings to life the story behind the festive tune Rudolph the Red-Nosed Reindeer. Ideal for those who love a light-hearted viewing, Rudolph, with the help of a few fellow misfits, learns his gift is one to be celebrated, not resented.
Day 5 (TV Bonus)
Dash and Lily (2020)
While not a Christmas film, this miniseries needs to be mentioned. Based on the book series by Rachel Cohn and David Levithan, the story follows Dash and Lily who, through the communication of a diary exchanged in unlikely places around NYC, form a bond without ever having met in person. Wanting to feel a little love this Christmas? You won't regret watching this.
Day 6
Santa Who? (2000)
Almost everyone says they've never heard of this one, which is exactly why it's on this list. If you haven't considered the prospect of a Christmas reliant on a Santa who doesn't remember who he is, then rest assured you'll enjoy this heart-warming story. While adults across the country fail to be convinced, his identity is nothing but clear to a little boy whose belief might just save Christmas.
Day 7
Love Actually (2003)
What says Christmas more than love? This treasured classic has many interpolated storylines that weave together. Filled with emotional realities of the price we pay to love one another, we may all come to find that we need a bit of love, actually.
Day 8
Miracle on 34th Street (1994)
Our good old Father Christmas ends up in a bit of a crisis. With no one believing in his truth, the once sceptical Susan and Dorey come to help by standing up for him in the fight to save his name, and even Christmas itself. Looking to restore a little Christmas magic? Watch this.
Day 9
A Muppets Christmas Carol (1992)
This upbeat take on the Christmas classic is brilliant for those who love a musical. With festive tunes throughout, you'll watch the beloved story unfold with a few familiar faces making an appearance. The film acts as a delightful reminder to be a little less bah humbug and to have a little more Christmas cheer.
Day 10
Home Alone (1990)
Want a bit of laughter and mischief in the runup to Christmas? After Kevin McCallister gets left behind at home for Christmas, he decides to take matters into his own hands when a couple of robbers make his family home their next target. If you want to watch a child masterfully outwit a couple simpleminded fools, then this film is for you!
Day 11
Elf (2003)
Buddy, an elf who has never quite figured out why he doesn't belong, decides to leave the North Pole. On the search for his real parents, Buddy tries to adjust to our world with a wonder and optimism that you can't help but love. For the Christmas lovers out there, Buddy is your best friend in the month of December, embracing the magic of Christmas like no one else can.
Day 12
Nativity (2006)
Last but certainly not least, Nativity is the ultimate feel-good Christmas film guaranteed to get everyone in the festive spirit. With a group of kids that bring non stop laughter, and a teacher duo that cannot be beaten, this film is packed with musical numbers unmatched by any other nativity play. If the songs aren't enough to sell it to you, then maybe the whole lot of merry mayhem it has to offer might just do the trick.