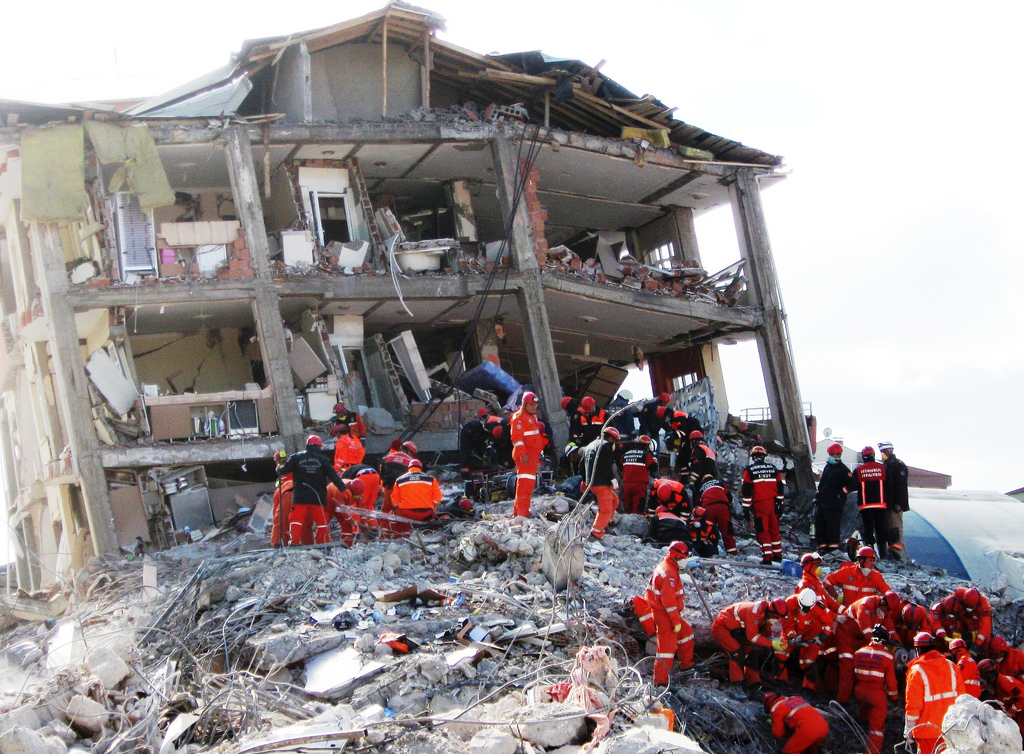 Turkey and Syria woke up to a 7.8 magnitude quake in the early hours of Monday (6th February) morning, killing more than 40,000 people in Turkey and a death toll of 5,800 in Syria. With numbers expecting to rise, and the situation becoming seriously unprecedented, it is important to demonstrate compassion for those suffering such a great loss.
As the region awaits help, the emotional outburst from grieving survivors saddens nations already crippled by economic and political uncertainties. Enduring traumatic injuries and having to sleep outside in blistering conditions has become the norm for those living in the affected areas.
Silence…
After hours of hearing ominous cranes and smashed rubble, the rescue teams pause for the faintest noise. Anguished and fearful we all listen in, holding our breaths for the slightest sound to follow the whistle piercing our ears. In a small corner, we hear that exact miracle we have long been waiting for: a baby boy found alive "140 hours after the quake", a family of eight rescued "after being trapped under the rubble for over 136 hours." At other times, hope is nothing but a distant feeling as silence resonates amongst the wreckage.
Who is responsible for the grotesque number of deaths? Not so long ago in 1999, a 7.6 earthquake struck the Kocaeli Province of Turkey, causing the death of 17,000 people and left most of the buildings uninhabitable. It is therefore apparent that we are not experiencing a revival of strategic responses to natural disasters but a relapse of irregularities in the construction of buildings.
Calls for accountability should be made, especially with the kind of exhaustion that settles with the countless catastrophes we have already borne witness. Failure to enforce earthquake resistant buildings solely behind the reasoning that it would cost billions is eccentric and corrupt. Building contractors and those complicit in the illegal use of construction materials should be brought to justice.
It's not news that Turkey is prone to earthquakes, and so regardless of the nation's economic decline, adhering to protocol is integral. Professor Naci Gorur of Istanbul Technical University realised the risk and warned the government on countless occasions to "take action", especially after collecting billions in earthquake tax. With plans presented to DPT (State planning Organisation) and Tubikat (The Scientific and Technological Research Council of Turkey), Mr Gorur was mindful of the violations to the building codes. But the rhetoric around discussions of sufficient designs was suppressed by a combination of ineptitude and ignorance. Conversely, many Turkish politicians are uttering the word "kader" meaning "destiny". Thus, using the theocratic substitute as a way to ease the responses to neglect and mismanagement.
To add to the scale of devastation, many Syrian refugees have, over the past years, been forced to live in unregulated houses. After being displaced by the ongoing civil war, refugees had no choice but to reside in these supposedly 'safe' homes. Once again, lax enforcement has cost the lives of innocent people.
Even after the quake, there have been reported claims of inadequate and slow relief efforts in Syria. In fact, "Syria's UN envoy has said that any support must come from within the country and not across the border with Turkey." Meanwhile, countries including the US, UK, Italy, Romania, Croatia, Japan, South Korea have all deployed search and rescue teams, alongside generous donations from Indonesia, South Korea, Switzerland, Czech Republic, Serbia, Moldova, Lebanon, Jordan, Iran and Iraq. Yet, with Turkey and Syria at breaking point, one would expect more countries to abandon political ideologies and work together as a unit.
Instead, imperialist governments are strategically prioritising their NATO ally Turkey, while simultaneously ignoring the profound scale of devastation in Syria. According to reports, all international aid has concentrated medical attention efforts in Turkish regions with little effort made to lessen the tragedy in Syria. Of course, with the prevalence of biases comes the inevitable reality of proximity. There's also the simple fact that there is an overall compassion fatigue to cover stories happening outside "developed nations". People have become immune to the refugee crisis and poverty occurring in the Middle East purely because it is perceived as the "norm". As we can see, geopolitical fault lines bear heavy weight as an end-product to the level of dire consequences.
With that being said, below are ways in which you can help the people of Turkey and Syria:
AHBAP: A non-profit organisation run by Turkish rock singer and public figure Haluk Levent provides all kinds of aid ranging from water, tents and mobile trucks. The organisation has also urged people to donate blood. For donations: https://bagis.ahbap.org/bagis
AKUT: A voluntary, non-governmental organisation assisting those who require aid by means of high-standard personnel and equipment. For donations: https://www.akut.org.tr/en/donation
International Federation of Red Cross and Crescent Societies: A humanitarian network which provides the affected regions with stocks of food and basic aid like tents and blankets. For donations: https://donation.ifrc.org/?campaign=d333c1a4-09a7-ed11-a2da-005056010028
Oxfam: supports survivors with basic supplies as well as determining a long-term response plan. For donations: https://www.oxfamamerica.org/explore/stories/oxfam-mounting-response-to-massive-earthquake-in-t%C3%BCrkiye-and-syria/
Image via Flickr, used under the Creative Commons license. No changes were made to this image.