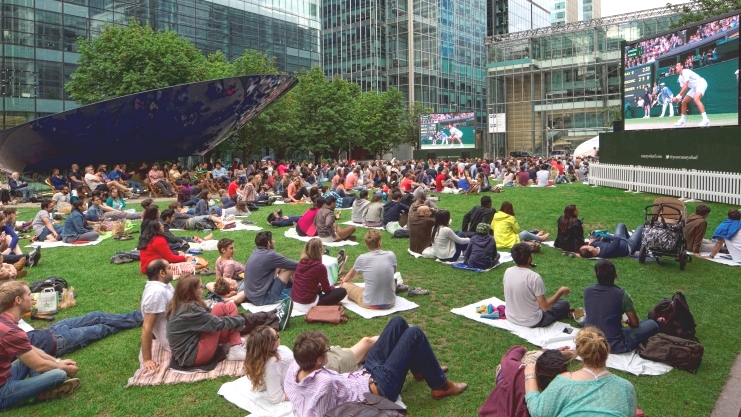 We've all had that moment when we realise that everyone will be having the time of their life in Barcelona, Saint-Tropez or even Los Angeles for the summer and we won't be. Sometimes money is tight. Sometimes money is as tight as our jeans are as we've spent way too much on Domino's. However, not going on holiday isn't the end of the world. Being at a university so close to London means that we can enjoy various fun events and experiences there instead. Here are a few things to do in London at a very reasonable (or sometimes non-existent) price.
Enjoy free activities at the beautiful Canary Wharf
During this summer there will be: Fashion weekend (29th – 31st May); dance performances (29th June – 4th July); outdoor Ping pong (7th –16th August); screens showing sport events in the park (29th June –18th August); and many more.
Visit the O2 Arena
Although concerts are a huge part of the O2 Arena, there are so many other things to do here instead for much lower prices. For example, a bar and restaurant, Slug and Lettuce, offer 2 for 1 cocktails on event days, 50% off food every Monday, and Kids under 8 eat for £1 on Sundays. Also if you'd like to get a group of up to 8 people together for bowling, it could cost as little as £3.81 per 30 minute game at Brooklyn Bowl.
Applause Store
This is one of my personal favourites. Sign up to this and you'll be able to get free audience tickets in and around London. Shows include, The X Factor, Take Me Out, Virtually Famous, Britain's Got Talent, Celebrity Juice and more. Also, to all you Game of Thrones fans, there are audience tickets for the fan show, Game of Thrones: Thronecast.
Go to a Museum or Gallery
Just because it is the summer doesn't mean we have to avoid all things educational or informative! There are free museums such as The Natural History Museum, The National Gallery and The Science Museum. These are lovely places with various places to eat or enjoy ice cream nearby.