A Glass Slipper is No Match for MTS
by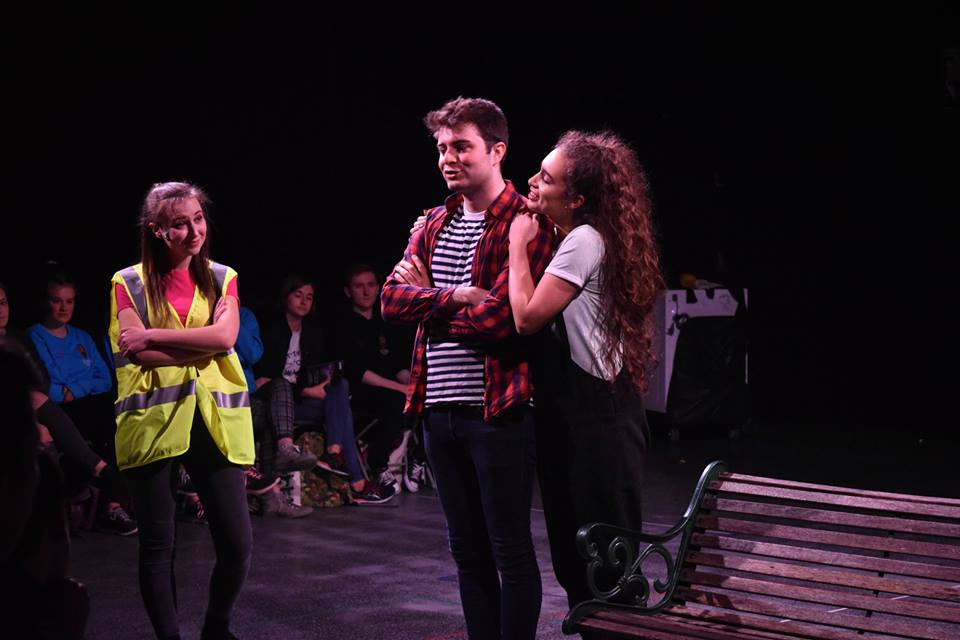 Photography Credit: Emily Bradbury
Michele Theil reviews Musical Theatre Society's Spring Term Production, Soho Cinders.
As a self-proclaimed Musical Theatre geek, I was surprised that I hadn't heard of Musical Theatre Society's (MTS) spring term production, Soho Cinders. It is described as 'Cinderella with a Twist', adding in elements of contemporary London and bringing in an LGBT+ relationship as well. It is an interesting show, with catchy up-beat numbers that definitely stick in your head long after it's over.
The show starts slowly, with the ensemble filing in to the room subtly – people barely notice until cast members interact with and speak to audience members, catching their attention and keeping their focus for the first number. A narrator, played by Reuben Havelock, appears to introduce us to the characters as they sing Old Compton Street. Bryony O'Hare as the sassy best friend Velcro shines from the beginning, her voice is amazing and she gets funnier as the show moves along.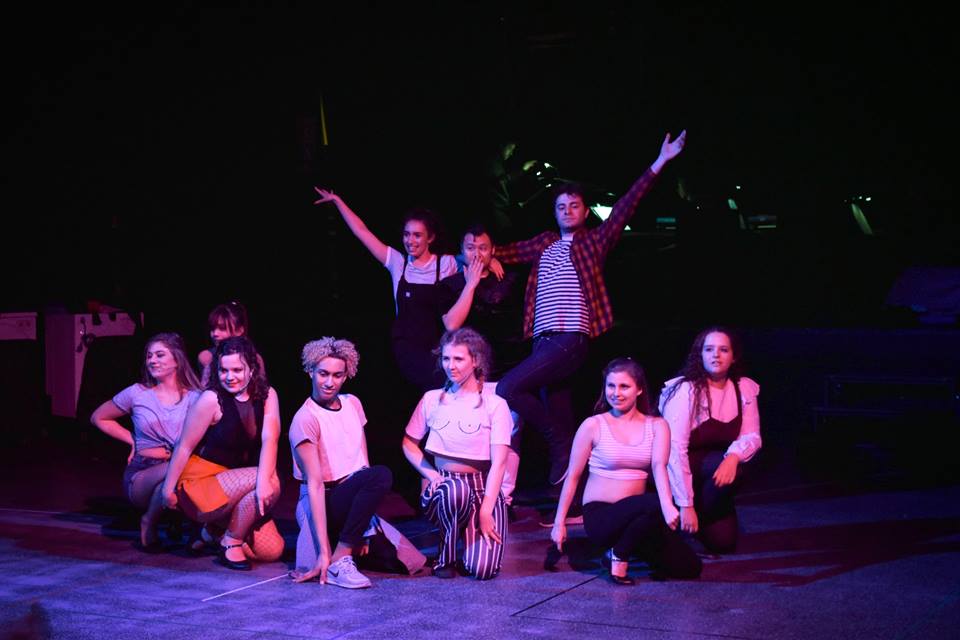 Robbie Caprari-Sharpe is our main character, the Cinderella of the show, playing Robbie, a boy down on his luck who is caught between his secret relationship with politician James Prince (Merritt Little), who incidentally has a female fiancee, and a hard place. Both Merritt and Robbie are wonderful in their respective roles, particularly when they sing the duet 'Gypsies of the Ether', which tugs at our heartstrings as we can't help but root for this couple – and for James to be true to himself. Robbie tells me that he "really enjoys playing Robbie, even though he's a weird character who gets into a wild mess". He said, "The role has forced me to push myself harder, especially as it's a Tenor part and I am definitely not a Tenor."
As I'm sure many of us can agree, his singing ability is not in question here as his voice is amazing throughout the show. His solo song in Act Two, 'They Don't Make Glass Slippers', really showcases that brilliant voice and is heartwrenching to watch.
Then, there's Saskia Leach as Sidesaddle, who is our 'Fairy Godmother' here. Her infectious energy on stage really suits her character, as she sings 'You Shall Go To The Ball' to Robbie. Her first appearance is riding a bicycle onto the stage, which is impressive as her programme bio states that she "hasn't ridden a bike in ten years". Emily Quillin plays Marilyn Platt, the dutiful fiancee of James Prince. Not only is she beautiful in the role, particularly during 'You Shall Go To The Ball', her voice stuns us all. As she deals with the situation she's been put in, we sympathise with her and are made to feel guilty for rooting for Robbie and James.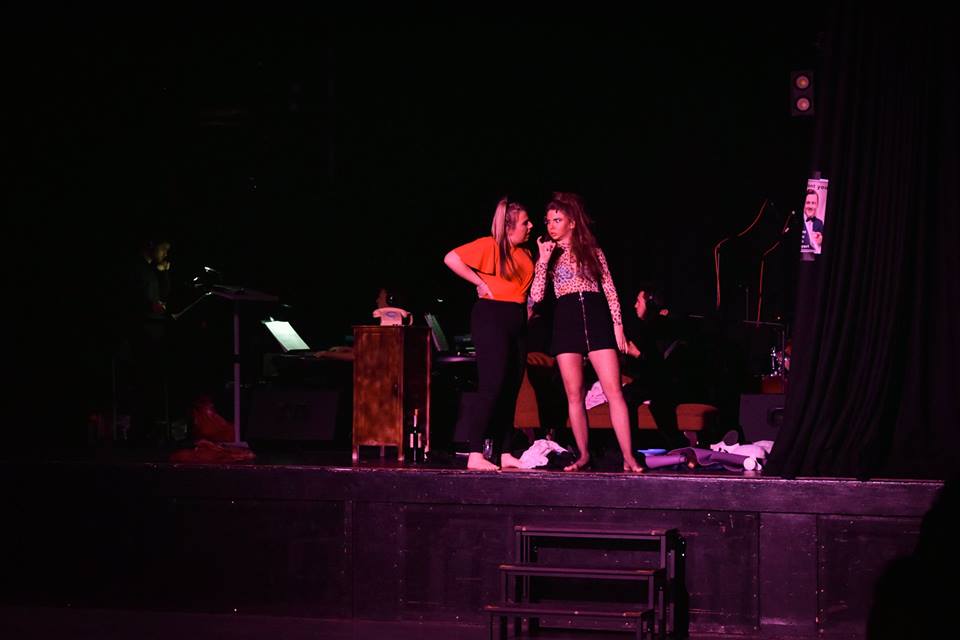 As an audience member remarked during the intermission, there is no doubt that the 'ugly step-sisters', Clodagh (Lucy Ambrose) and Dana (Lauren Sanders), are stars of the show in their own right. Their funny quips and one-liners draw the audience's laughter, reminding us that this is all a bit of fun – especially when they suggest that "everything we look for in a bloke… is well-hung and mute" or when Dana compares Clodagh to a "bowling ball" – "picked up, fingered and thrown back down the alley". There is no mistaking the audience's laughter and, while the writing of Stiles and Drewe is owed gratitude, it is also the deliveries of Lucy and Lauren that draw out their characters' hilarity. Their first song, 'I'm So Over Men', is very funny and I'm sure more than few of us can relate to it.
A special mention must go to James Cressey, who plays business tycoon Lord Bellingham, affectionately referred to by Velcro as "Lord Sugar Daddy". His voice and demeanour speak to the privilege and entitlement of a Lord, something that the audience really enjoyed, as far as I could tell.
As we head into Act Two, the song 'Who's That Boy' allows a few of the ensemble members, namely Sam Mok, Kiera Upton and Harriet Williams, to show off their voices with a few solo lines.
Ensemble members are necessary to every show, so a shout-out to Barbora Ciklerova, Bernice Saunders, Hadley Wehner, Josiah Vasquez and Melissa Fry as well for their brillant performances in multiple roles. Most of Act Two is designed to make us upset, as everything implodes as a result of the secret relationships and political drama that occurs.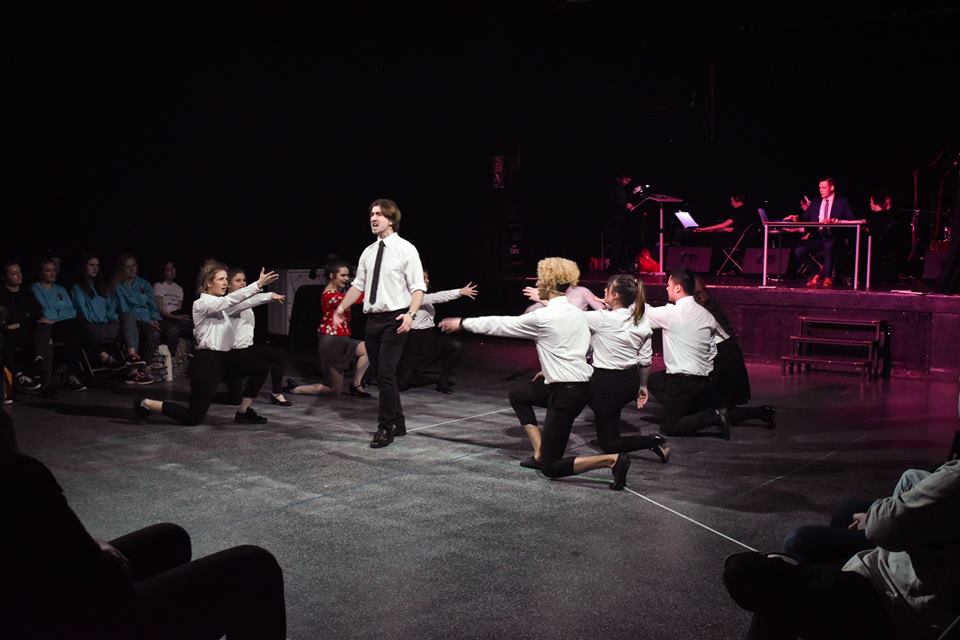 Josh Berrington as evil campaign manager, William George, sings a solo song, 'The Tail That Wags The Dog', which speaks to his own political ambition and how he wants to "get the bone". The song is deep, and Josh's voice suits that perfectly. It reminded me of Scar's villian song in The Lion King, which I suppose is the reaction we're supposed to have. He's very convincing as the 'asshole' of the show, especially as his behaviour towards his assistant Sasha, wonderfully played by Ellie Taylor, speaks to the #metoo era and the misogyny that is rife within many workplaces.
Director Alice McKeever said, "It's been crazy doing this show. I've loved every moment of it. It's been a pleasure to work with everyone and I have enjoyed it a lot. We've supported each other, become great friends, and I'm so proud of all of them!"
Congratulations to the cast and crew of Soho Cinders. There is one final chance tonight to see it, get your tickets here: www.su.rhul.ac.uk.
Photography by Emily Bradbury.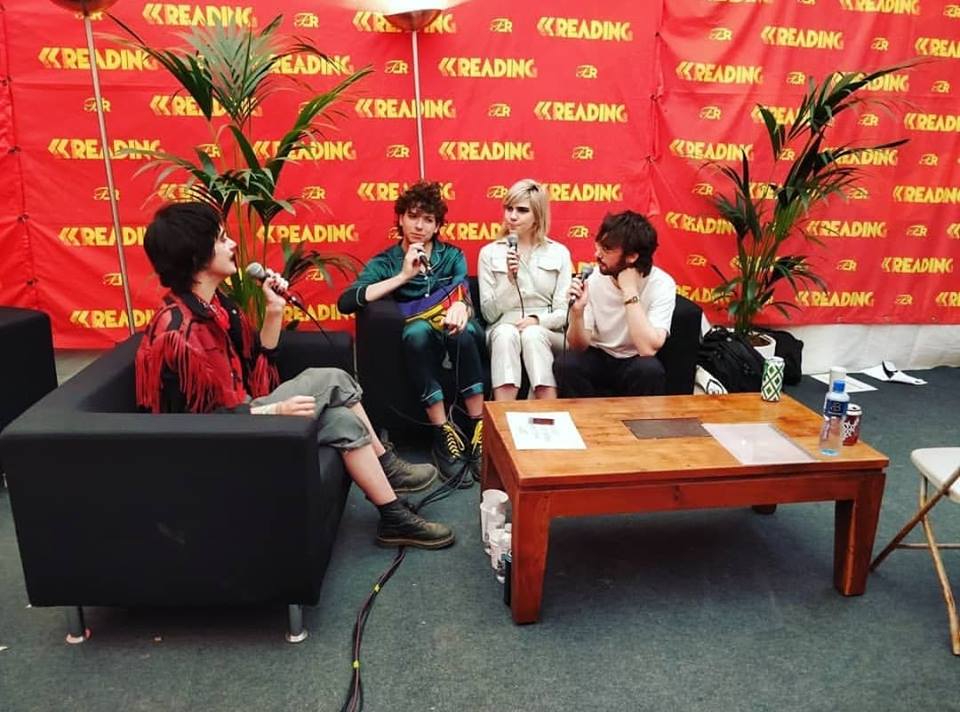 by
Insanity Radio's Head of Music and resident punk Phoebe Hagan is back with her pick of the artists you should be listening to in 2019.