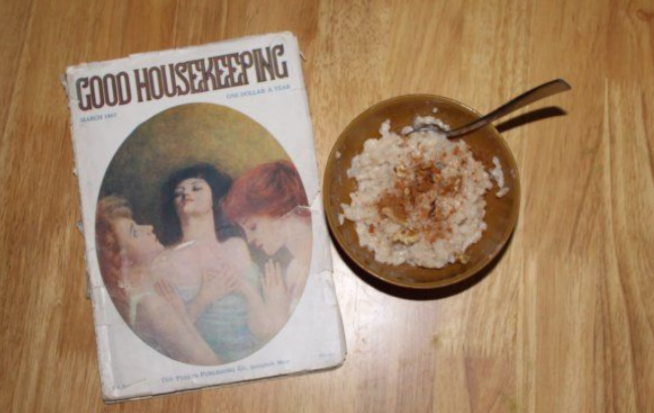 There are many things one can learn from the March 1907 issue of Good Housekeeping. Such as, "A luncheon for one's women friends is a most popular form of entertainment." Or you can learn how to boil rice in milk, only to fail. Yes, I learnt that boiling pudding rice in milk is not a good idea lest you want your housemates to accuse you of feeding them uncooked rice. Admittedly, it may have been a known fact to add water as well as milk, so the author may have assumed one was smart enough to know that and didn't bother adding that detail. Just for reference, the type of rice is never specified but as this is essentially rice pudding, I chose to use pudding rice.
Due to the source material being over 114 years old, which is older than the Titanic, we'll never know what type of rice they intended to use, or how much water they presumed we would add. Hence why the method below is a variation on Good Housekeeping's Rice with Maple Syrup recipe.
Take a large mug of pudding rice. Add the rice to a pan followed by a mug full of water.
Keep an eye on the rice in the boiling water. Boil for 10 minutes, and if the water hasn't yet evaporated, wait a little longer. (Be careful not to burn it on the bottom of the pan, keep stirring it now and then.)
Add milk to make a creamy texture and any seasonings of your choice, I chose to add some ground sweet cinnamon.
Add the maple syrup to the rice (Whatever you do, do NOT let the maple syrup boil. I almost did and risked ruining my housemate's best pan).
Garnish it with any nuts of your choice. Pecans or walnuts work best. (I chose walnuts.)
Enjoy hot or cold (though with the seasonings, it probably tastes better warm).
The verdict from my housemates:
"Sweet as a nut."
"It's the right combination of sugar and carbs, and I like nuts as well."
"I like food that makes my teeth completely redundant (…) it tasted like food I'd give to an old person who has no teeth, but it's still good."
An additional note:
If you are on a budget, you can make this mock version with a can of Ambrosia Devon Rice Pudding. To do that, you simply pour out a serving from the can, heat it up in the microwave (as it states on the can), then add the maple syrup and cinnamon seasonings. However, I do not personally recommend this because it tasted like condensed milk with a sour aftertaste. The conclusion is: the fancier, the better!
(Special thanks to Ella Stoneley for the photos!)