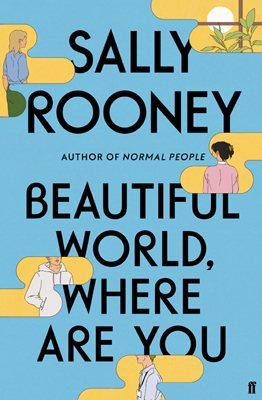 Whether you read a hundred books a year or struggle finishing just one, you've probably heard of Sally Rooney, or at least her second novel Normal People. In the four years since the release of her 2017 debut, Conversations with Friends, Rooney has made herself a household name, and her third novel is acutely aware of it.
Beautiful World, Where Are You? follows university friends Alice and Eileen, both on the cusp of turning thirty and both navigating romances that form the basis of the novel's plot. Famous author, Alice, has moved back to Ireland after the pressures of celebrity life in New York proved too much to handle. Despite their less-than-perfect Tinder date, she invites local warehouse worker, Felix, to join her on a work-trip to Rome.
Eileen lives in Dublin, flitting between book launches, poetry readings and parties at the behest of her poorly paid editorial job at a literary magazine. However, life is not as glamorous as it might seem: she mourns the loss of a three-year relationship and attempts to embark upon a new one with her childhood friend, Simon.
The story is, for the most part, told in distant third person prose, with the narrator acting as an observer: reporting the character's movements, dialogue, facial expressions, but never their thoughts. This style of narration, along with vivid attention to visual details – 'when the man returned and put the drinks down, a drop of larger spilled over and she watched its rapid progress down the side of the glass' – and witty dialogue that, along with Rooney's iconic lack of speech marks, often blends seamlessly into the prose, making for a novel that feels more like a brilliant film. The inner thoughts and emotions of Alice and Eileen are only revealed in almost explosive bursts via long emails between the two, which break up the chapters and are arguably the highlight of the novel. Concerns about love and sex meet heady political debate in these segments, exploring the threat of climate change and right-wing politics, Marxism, the injustice of mass poverty, the death of beauty, and impending social collapse.
Such political themes are characteristic of Rooney's work, but are truly brought to the forefront in Beautiful World, and underlying it all is a frantic sense of guilt. Alice writes to Eileen of a realisation that she has while shopping, that every day, people 'were ground to death in the most horrific ways, children, women, and all so that I could choose from various lunch options, each packaged in multiple layers of single-use plastic … I thought I would throw up.' And then, 'so what? I still have to buy lunch.' Eileen responds in kind: 'it feels like looking down and seeing for the first time that I'm standing on a miniscule ledge at a dizzying vertical height, and the only thing supporting my weight is the misery and degradation of almost everyone else on earth. And I always end up thinking: I don't even want to be up here.' The reader will no doubt be familiar with this guilt that comes from modern living, from not being able to save the world, and worse, not even actually trying – I know I am.
Guilt seems, at times, to be at the core of the novel, particularly when exploring Alice's attitudes toward the fame and fortune brought about by her success as an author. She condemns the system of modern literary production as 'deeply philosophically wrong,' yet continues to benefit from it. In an email exchange between Alice and Eileen about the difficulties of success and authenticity, one can't help but wonder whether we're reading about characters, or Rooney herself.
This is a novel conscious of itself as an ethically dubious artform; what do the millennial struggles of two middle-class white women matter in a world of systematic poverty and environmental destruction? Although, it's also an ode to art itself and humanity's instinct for it, and love, and beauty. Alice claims she'll never write another novel, yet like Rooney, she keeps returning to the form, not dissimilar to Eileen's relationship with Simon. It seems that love, for craft or person, overrides thought-out ethical principles or theories. 'Maybe,' writes Eileen, 'we're just born to love and worry about the people we know, and to go on loving and worrying even when there are more important things we should be doing.'
A vivid and at times despairing depiction of millennial life, Beautiful World, Where Are You? is full of sharp political and emotional observations about the place of love, sex and literature in a world facing collapse, yet the charming dialogue and sleek, observational prose is, in true Sally Rooney style, never less than delightful to read.