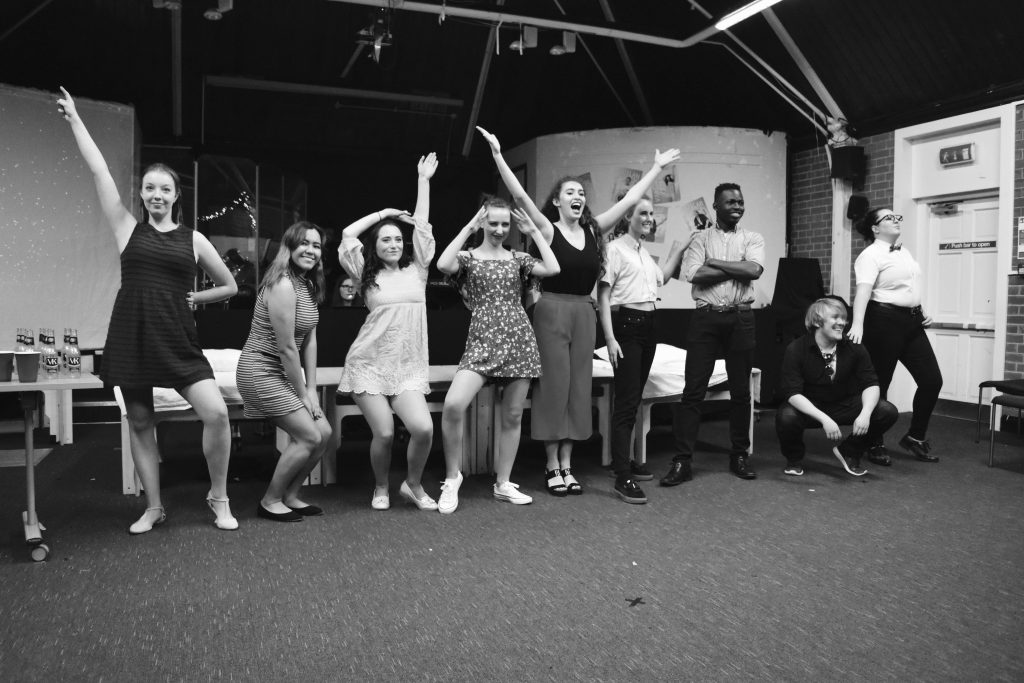 Love Island: The Musical transports us to a sunny island resort in the unlikely venue of Jane Holloway Hall. Incredibly innovative production skills use a projector, a voting app and a star performance by Director Connor Wood as the hot tub, to produce a lot of laughs and a substantial suspension of disbelief. The performances mimics the style of the hit reality TV show that swept the nation last summer, Love Island, which sees couples deserted on an island to find love and win some hefty cash prizes.
It is clear that the production team from the beginning have thought long and hard about how to squeeze what they can from an incredibly low budget production. There are pre recorded 'ad breaks' that left the audience in hysterics and the infamous Love Island texts show up on the projector screen with cutting wit. But even more exciting is that the audience at the end are able to vote for their winner and the production team have prepared three different endings, making the reason to return even more justifiable.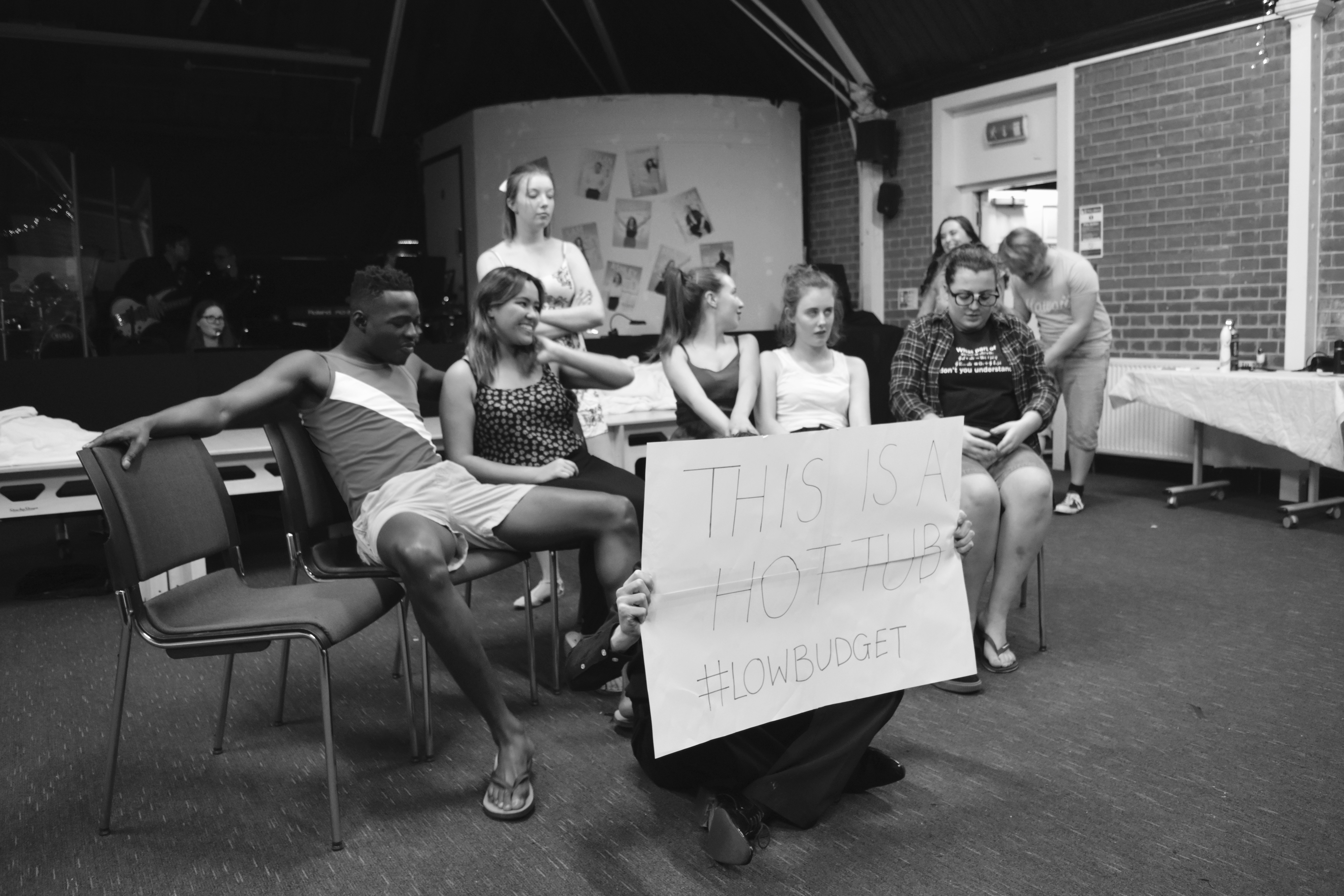 There are some wonderful performances to go alongside the production value, Bryony O'Hare as Caroline Flack giving a stand out performance. Her energy and command of the stage made every moment and especially her rousing eleven o'clock number, I'm The Greatest Star from Funny Girl, all the more enjoyable. O'Hare's energy is matched by Tanaka Chitsenga as Charlie who never fails to get a laugh and more importantly, looked like he was having the time of his life in the Act 1 Finale, the 'Love Medley' featuring a mix of songs from Mamma Mia.
Alice Johnson as Vanessa and Connor McClenan as Oscar are seemingly the Amber and Kem of our Love Island experience. Johnson in particular with her white heels, white nails and the strongest of Essex accents was a delight to watch and together their It Must Be Love showcased two very strong voices. The other featured couple, Mia and Dylan played by Ruth Furber and Aimee Martino respectively added the sweet in what is two hours of non stop dramatics, their rendition of What I've Been Looking For bopped all the way to the top of my heart. Saskia Leach as Sam and Michele Theil as Hannah pull off the betrayals and scheming that are central to the plot with ease and a frightening amount of realism whilst the spunky Anna Roberts as Ashley showcased a great possession of comedic timing.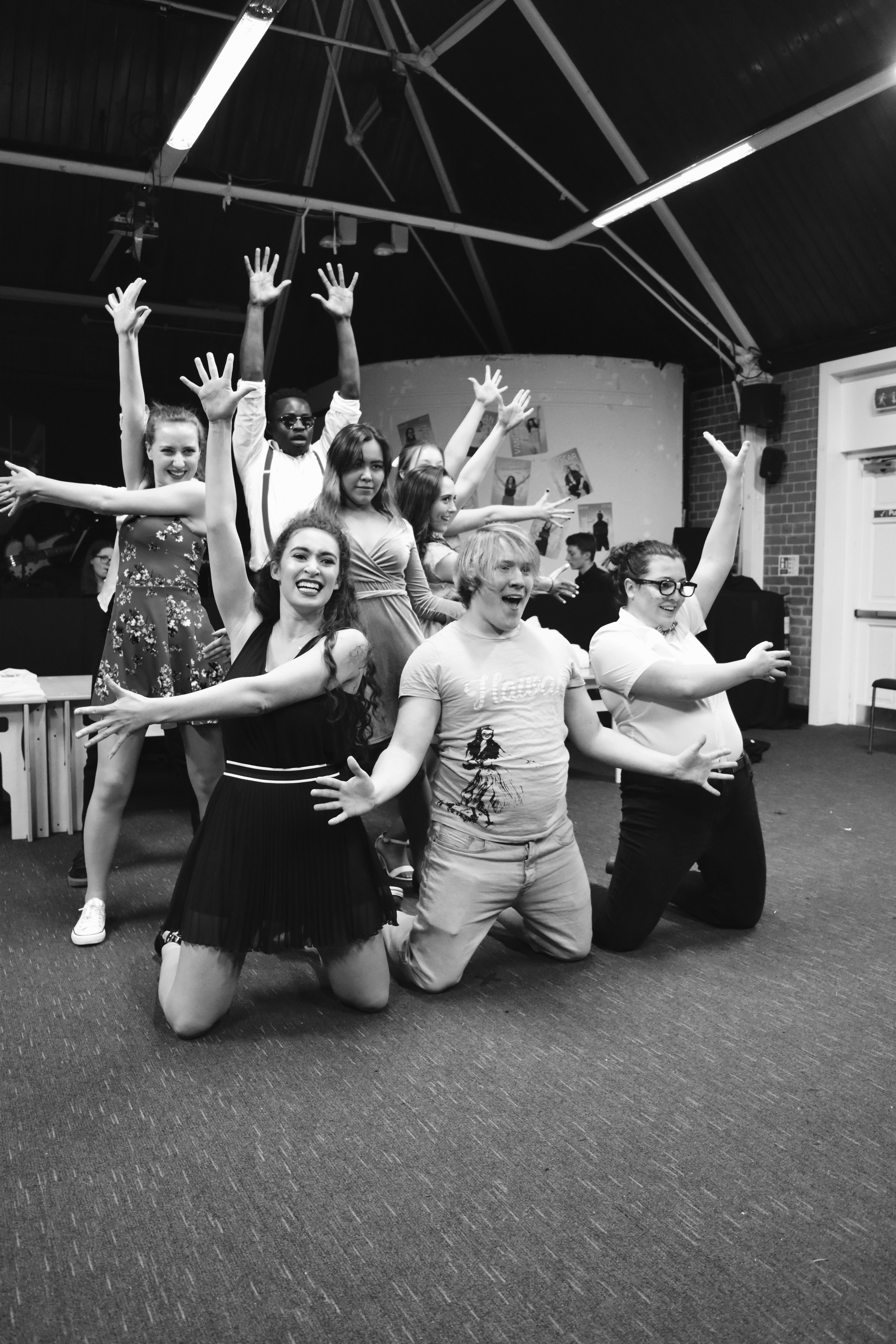 The strong cast showcase a wealth of intuitive direction on the part of Conor Wood and whilst the word 'psycho' is used a little too sparingly for my tastes, his script is strong, especially with its use of puns, classic Love Island phrases and pop culture references.The music and wonderful eight piece band is clever, nuanced and perfectly placed by Musical Director Daniel Looseley. Choreography by Katrina Rutina gives the performance light and laughter in all the right places.
Love Island: The Musical isn't the next RENT or Legally Blonde but it is an incredible showcase of both cast and creative talents. It is an enjoyable ride and the best way I could think to spend a Sunday night. Don't miss your chance to catch what is set to be one of the most inventive Variations performances ever put on. Doors open at 7pm and student tickets are £5.
 Photography provided by Emily Bradbury