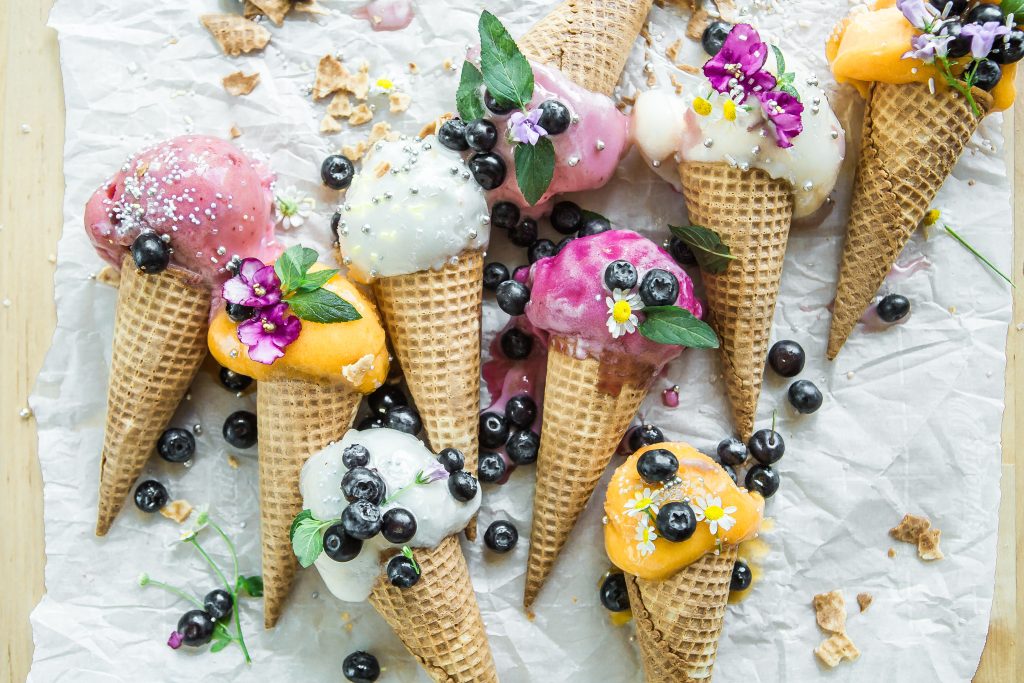 Now that it's summer, the weather is warmer, and the daylight hours are longer, it made sense to wrap this series up with an iconic treat that we all associate with the season. BBC Radio 4's podcast, You're Dead To Me, did an episode exploring the history of ice-cream. The podcast mentioned horrifying 18th century flavours from whale vomit to 'out there' ones such as parmesan and artichoke. Towards the end of the podcast, food historian Dr Annie Gray described a recipe from the Queen of Ices: Agnes Marshall (1855-1905). Agnes Marshall was a pioneer of ice cream and frozen desserts, using liquid nitrogen to freeze ice creams, long before the invention of the modern freezer. In 1885 she came out with the patent freezer which could freeze a pint of ice cream in five minutes and is considered to be one of the first ice cream machines.
The recipe of her's discussed in the podcast, was recommended by Gray as a fun summer activity to do. The result is flavoured fruit ice, otherwise known as sorbet.
I was, of course, intrigued and had to try it. There is however one important thing to note: whilst this recipe was very simple, it required a lot of patience. I ended up attempting it twice…in my first attempt I was expecting miracles in a short time span. I ended up serving frozen jam soup to my dinner party guests. Like most kitchen disasters, it was a learning curb but at least I got a funny story out of it!
Get a bowl, ideally a plastic or metal bowl. (I used my housemate's metal mixer bowl). Using bags of ice you get from the supermarket, crush the ice up (I used a rolling pin). Then using a lot of salt, pour the salt out onto the crushed ice at the bottom of the bowl, to dry the ice out and to keep it from melting.
Put a tin on top of the salty crushed ice, and in the tin pour out the juice of one lemon, a cup of jam (I used strawberry) and a pint of water. Stir it a bit and close the tin with the lid.
Line more salted ice around the tin. Don't be afraid to put some on top of the tin to keep it cool. If frost starts to form on the outside of the bowl, you are on the right track.
Patience is key. I left it for an hour and 20 minutes before I came back to it. For this, timings are finicky so trust your intuition. Then, I lifted the tin lid up and saw pink ice forming. The water was becoming frozen around the jam and lemon mixture.
To keep it cool, there's no shame in relying on a modern freezer. In hindsight, this is probably why I had to attempt it a second time, because it didn't help that I chose to make it on the day my freezer broke.
Put in the freezer till you're ready to serve it.
Trying it, we all agreed it was very refreshing and that if it was not for the juice of the lemon, we would ultimately be eating frozen jam. The lemon juice really added the extra pizazz to it. My housemate said it had a "snot-like quality to it", perhaps because it melted quite quickly once it was taken out of the freezer. To enjoy the actual ice part of it, do consume quickly when it is out of the freezer. In terms of sorbet, it was very nice, though regarding the method, it is probably a lot easier to pop over to the corner shop to get a tub of Ben and Jerry's. Though it is worth doing to appreciate how far we have come since modern freezers were invented and to appreciate the culinary genius that was Agnes Marshall.
Image credit: Photo by Brooke Lark on Unsplash