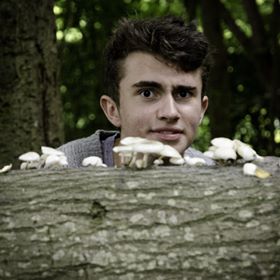 Today we sit down with Callum Pardoe, who this year has taken on the role as the Holloway Players Representative with Drama Society. We spoke to Callum, who is going into his second year at Royal Holloway, about all things Improv and what to him makes The Holloway Players the crazy, talented group of performers they are.
What persuaded you to join the Holloway Players last year?
I'd always wanted to get into improv and after seeing the Players perform at the Drama Society Taster sessions I was dead set on working with them. I thought to myself 'these are the most hilarious people I've ever seen in life! I have to get to know them!'
What are your highlights from last year?
Last year had its fair share of highlights for me but if I had to pick one it would have to be performing in Any Last Words: The Improvised Murder Mystery, that was really special! I don't think I've ever had as much fun doing a show before!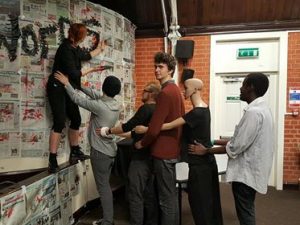 What are you looking forward to this year?
The fact that I'll be running The Holloway Players this year excites me greatly. The group has such a special place in my heart and it's such an honour to be able to help continue to expand it!
What are your goals for this year?
My main goal for this year is maintaining the friendly, welcoming atmosphere I believe Players to be all about, whilst also making small quality of life changes to the group so that myself and future Players Reps have an easier time running sessions.
What performance opportunities do the Holloway Players have?
We do shows twice every month and sometimes more so there's always a chance to get involved and strut your improv stuff! We usually also have a slightly larger show that occurs in the Spring Term! Last year it was Any Last Words: An Improvised Murder Mystery which, as I've already mentioned, was absolute dynamite! I'm currently keeping my idea for the larger show a secret, it would be a 'crime' to relinquish my plan so early.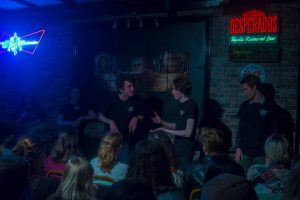 Drama Society has been running for a while, but how old are the Holloway Players?
The Holloway Players turn 11 this year! They grow up so fast!
What do you do as the Holloway Players?
Bottom Line: We improvise, we entertain, we welcome. Simple as that!
Quickly, in 3 words describe the Holloway Players antics!
Hilarious Organised Chaos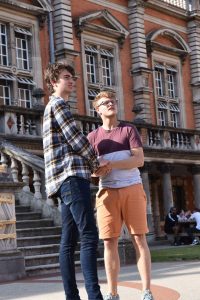 What would you say to freshers who are looking to join you this year?
If I could say one thing to all Freshers joining Players this year it would be that you've absolutely made the right choice coming to us. Things may seem daunting at first, for many this their first proper experience with improv, but don't worry, it never stays that way for long!
Finally, if you could only pick ONE Improve game what would you choose?
Four Square, it's simple, it's easy, but it's hilarious!