Evacuation Confusion Reveals RHUL Emergency Unpreparedness
by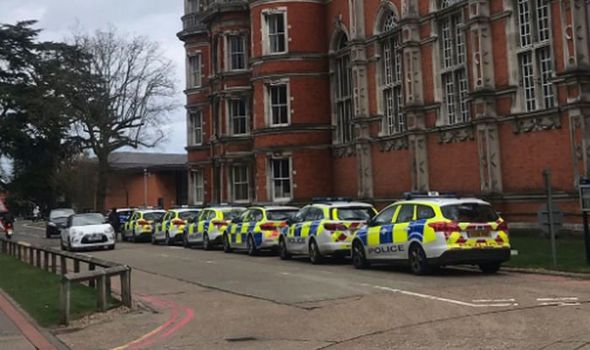 Royal Holloway's students deserve better than Wednesday's poorly-executed evacuation. To adequately protect its community members, Royal Holloway must address its emergency unpreparedness and communicate security threats more effectively.
On Wednesday afternoon, a suspicious package at the George Eliot mailroom prompted Surrey Police and College Security to evacuate nearby buildings on campus. Given the spate of bomb scares across the UK this month, one would hope for a well-coordinated response to a similar threat at Royal Holloway. Unfortunately, the university's evacuation fell far short of "well-coordinated" and contradicted a spokesperson's suggestion that "the College spends considerable time and resources on emergency planning." Interviews with community members and an analysis of evacuation messaging reveal the university's inability to quickly and clearly articulate emergency protocol. To adequately protect its community members, Royal Holloway must address its emergency unpreparedness and communicate more effectively with its students.
In 2017, the Association of University Chief Security Officers awarded Royal Holloway "Security Team of the Year." At first glance, Royal Holloway's response to the suspicious package might seem to validate this positive reputation for campus security. According to a College spokesperson, the buildings requiring evacuation––"Emily Wilding Davison, Windsor, Moore, the Computer Centre and College buildings on the north campus"––were identified "according to a standard procedure operated by the emergency services which is to establish a 100m cordon around the suspect package." The evacuation procedures were communicated through "direct actions led by staff" and supported by "messages on social media and the intranet."
The reality of Wednesday's evacuation, however, did not align with this portrait of efficiency and procedure. To start, the university's "messages on social media and the intranet" proved wholly insufficient for communicating the need to evacuate or clarifying the extent of Wednesday's threat. To date, students have not received a single email or text message about the evacuation, and nothing has been posted to the university Facebook page. On Twitter, the only message discussing the evacuation was posted at 3:18PM on Wednesday––two hours and thirteen minutes after the evacuation's 1:05PM start. And although the university posted two evacuation-related news updates to the Student Intranet, students do not receive alerts when such updates appear. Students who may have elected to check the intranet for news would have been hampered by the "intermittent technical fault" that affected "all systems connected to [the] campus network" on Wednesday.
Royal Holloway's choices about which buildings to evacuate raise similar questions about emergency preparedness. In their list of evacuated sites, the university's spokesperson included the Emily Wilding Davison library but did not mention the Founder's Building. Nine individuals I spoke with confirmed their presence in various parts of Founder's during the evacuation and their lack of awareness of the unfolding emergency. Why, though, would the university exclude Founder's from evacuation? GoogleMaps estimates a distance of 147m between the most-Northern corner of Founder's and the George Eliot mailroom––approximately 24 meters closerthan the Student Union shop in the library's most-Western corner. Practically equidistant from the suspicious package, Founder's and the library deserved equal evacuation on Wednesday. The university's 100m cordon policy only raises further questions about these buildings' disparate treatment. Why was the library evacuated when it sits over 100m from the mailroom? Such explanatory inconsistencies suggest a disorganized emergency response.
The experiences of George Eliot residents on Wednesday make the university's emergency inefficiencies even clearer. Despite their proximity to the suspicious package, seven residents I spoke with described vague or unusual directions to evacuate. One resident learned of the evacuation from a friend's text message. Another left her flat when the fire alarm went off––she assumed it was a drill. Lana Xu, a postgraduate student, described a laborious process of determining the need to evacuate. While cooking lunch, Lana heard someone ring her flat's doorbell but opened the door to find no one outside. Only when returning to the kitchen did Lana notice a woman in uniform outside the window. Catching Lana's eye, the woman gestured her back to the front door. When Lana opened the door again, the woman told her to "leave here, leave here right now." And only when Lana raised the issue of her flatmates did the uniformed woman direct her to "tell everyone to leave here."
Royal Holloway's students deserve better. In moments of emergency, students should not need to chase after information or ensure their peers' safety on their own. Students need emergency information as quickly as possible, and they deserve consistent policies in the event of an evacuation. Though Royal Holloway calls its campus "undoubtedly one of the safest in the country," emergencies are not uncommon in Egham. Last December, a man was stabbed outside the Student Union shop. In November, a car hit a student outside of George Eliot Halls. Too often, incidents like these remain under-acknowledged by the university––indeed, a College spokesperson ignored these two incidents even when I specifically asked about them.
To respond more effectively to emergencies, Royal Holloway must begin by acknowledging them. Other UK universities employ more sophisticated emergency messaging systems––I suggest that the university learn from its peer institutions and develop a cohesive alert system as soon as possible. Our community cannot afford another uncertain evacuation.
by
Students evacuated across campus by police responding to a 'suspicious package'.